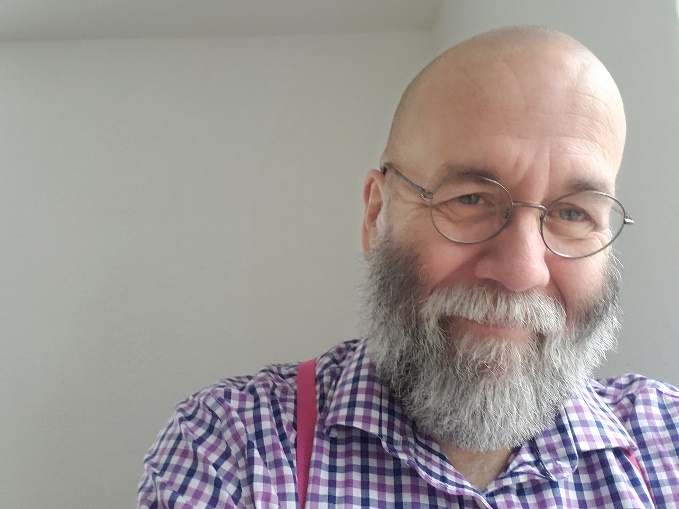 ​I'm Daniel (pronouns they/them/theirs). I create the content for this website. I live with my husband Craig (we have an open, polyamorous relationship) in Tacoma, Washington. Most of the time I play and work in the private playspace in our home. I was born in Seattle in 1956 and have been engaged in the queer leather scene since 1974.
I helped organize the original Northwest Bondage Club in 1994. I was active in the Center for Sex Positive Culture (The CSPC) for many years and am involved with the Pan Eros Foundation, which is the producer of the Seattle Erotic Art Festival (SEAF). Through Pan Eros Foundation, I facilitate the Men Tying Men and the Hypnokink Enthusiasts quarterly discussion and practice groups. Also, each December I produce the Toys BDSM party (for men and those with lived experience as men), which is a fundraiser for the Pan Eros Foundation. I've been involved with SEAF (as caterer, performer, juror, Finance Director, and now lead Docent) since its inception.
I am a member of a chosen kink family that we refer to as The Zoo (I'm known in our group as the Bear). Our little tribe of perverts frequently performs bondage and other kinky misbehaviors in public, and it is with the generous help of my family that I produce play parties, demonstrations, and workshops at various venues throughout the Pacific Northwest and beyond.
Currently I have workshops on rope bondage, cock and ball torture, hypnosis, and consent in BDSM play. I don't monetize my kink activities. If you want me to come to your town to teach, perform or play all you really need to do is pay my transportation and lodging costs. And be patient with my calendar. I promise that I'm more or less house broken.
I've been doing erotic hypnosis since 2018. It's been a game-changer for me. Erotic hypnosis is the most powerful engine for erotic and emotional intimacy that I know.
By the way, in every important respect, I'm a switch and am versatile.